High speed disperser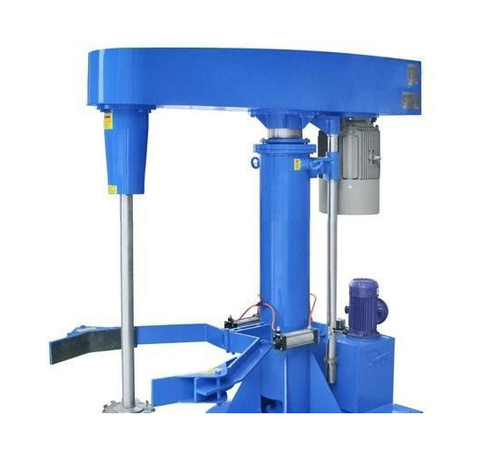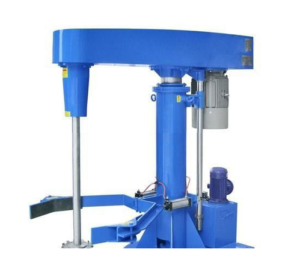 high speed disperser Specification
The high speed disperser is a fast, high-capacity disperser with a wide range of speeds and high level of efficiency
∙Push-button speed control
∙Speed indicator and automatic speed reduction
∙The product is accelerated radially by the dispersion disk, deflected to the top and bottom at the tank wall and directed back to the dispersion disk through formation of a vortex
∙Shear forces around the circumference of the toothed disk result in highly efficient dispersion, good wetting and deagglomeration
∙For high-viscosity products, a tank wall scraping device can aid the mixing and dispersing process
∙Hydraulic lifting/lowering device
∙Push-button stroke adjustment
∙Adjustable tank clamping mechanism
∙Stainless steel shaft and dispersion disk; additional product-specific mixing tools available depending on the application
∙Manufactured in accordance with CE guidelines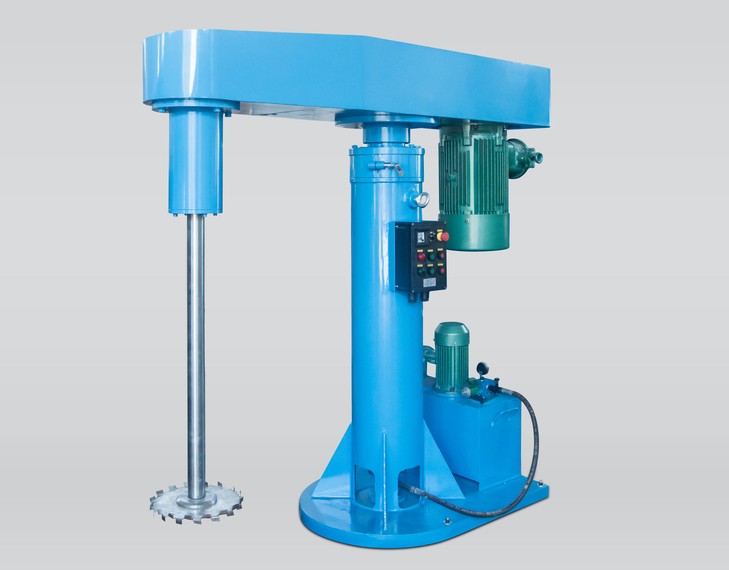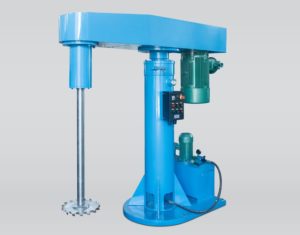 Options
∙Application-specific mixing tank cover designs
∙Vacuum design
∙Scraping device for tank wall
∙Temperature sensor
∙Timer
∙Design for ceiling installation with hinged head
∙Various explosion protection ratings
∙Special tank clamping mechanisms
∙PLC-controlled units
Advantage
∙ Easy handling which reduces costs and time
∙ Customized solutions on request
∙ A wide range of variously equipped versions available for highest process safety
∙ Various, easily exchangeable mixing tools to increase the efficiency
∙ Temperature measurement by wand or agitator shaft which increases the reliability of the production process
∙ Optimal positioning of the mixing tool via hydraulic lifting/lowering device
∙ Dissolver only starts When the vessel is correctly positioned
∙ At the lowest possible speed
∙ Two-handed operation for lifting/lowering of the tank cover (optional design)
∙ Automatic switch-off, if the toothed disks are lifted above the level of the tank
∙ Protection against accidental contact with the rotating shaft
∙ Bellows serving as dust protection for the shaft
The high speed dispersers are used extensively in the processing of Newtonian products, where the saw tooth impeller works at high peripheral speed, (up to 30 mt/sec) developing high shearing forces.
Dissolver consists of a column, drive body and a working shaft with a toothed disc. The shaft, agitator disc and disc fixing parts are all made of stainless steel 304 grade.
The column, together with the shaft and disc are lifted with hydraulic power pack to the level enabling easy in/out movement of the process vessel from under the mixer. Mixer shaft RPM adjustment is carried out through a frequency inverter
All varieties of solid material in liquid dispersion processes can be performed.
Depending on the product viscosity, the following Dissolver auxiliary equipment is provided:
Single toothed disc (low and medium viscosity)
Double toothed disc (medium viscosity)
Single/double toothed disc and scraper agitator (medium and high viscosity)
Toothed disc and butterfly agitator with scraper
People also search for
high speed disperser working principle
high speed disperser for paints
high speed disperser manufacturers
high speed disperser price
high speed disperser design
high speed disperser for sale
twin shaft disperser
high speed mixer