Stainless Steel Chemical Reactor Vessel
Abster™ range of products include stainless steel chemical reactor, ss mixing vessel, ss jacketed reactor, vertical stainless steel chemical reactor, ss gmp reactor and ss agitated reactor.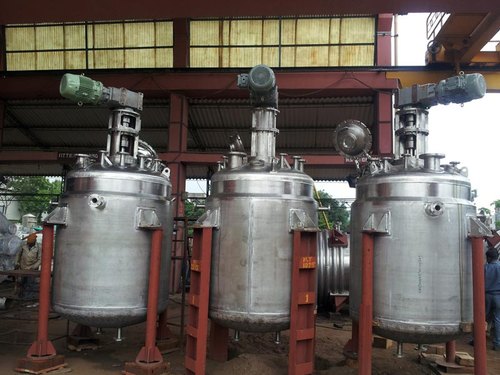 Application and introduction
Stainless steel reactor is a physical or chemical reaction of the vessel through the container structure design and parameter configuration, to achieve the process requirements of the heating, evaporation, cooling and low-speed mixing function.
The reactor is widely used in petroleum, chemical, rubber, pesticide, dyestuff, medicine, food, pressure vessel used to complete the process of vulcanization, nitrification, hydrogenation, alkylation, polymerization, condensation, such as reactor, reaction pot, decomposition pot , The polymerization reactor, etc .; materials are generally carbon and manganese steel, stainless steel alloys and other composite materials.
How it work
Reactor vessel is consist mainly of Mixing vessel, driving motor, agitator. Heating and cooling jacket, mechanical seal, with accessories device of condenser, separate column, collection tank, and so on, The reactor driving by motor and agitator inside is with mixing function and continuous working within a proper speed, Materials inside will be mixed and reacting with other additives.
Meantime ,temperature is raising by the reacting process ,So the cooling jacket working the same time to control the temperature by the request.
Other advantages
Reactor tank can be optioned by heating jacket ,and outer coil ,and inner coil heating for different production ,
Agitator blade can be choice by anchor type Agitator, Paddle Agitator, Ribbon Blade Agitator and other types also customized by many types.
Material made by Stainless steel 304 and 316 optioned ,and motor Ex-proof also
Reactor vessel is from 50L-500000L ,can be customized by different capacity and different structure for request
Abster™ Reactor will provide the drawing and platform design, and help installation in customer factory if needed.
Technical data:
| | | | | |
| --- | --- | --- | --- | --- |
| Model | Capacity L | Motor power Kw | Rotating speed rpm | Jacket and material |
| MR-50 | 50 | 1.1 | 100 | Customized |
| MR-100 | 100 | 1.5 | 85 | Customized |
| MR-200 | 200 | 1.5 | 85 | Customized |
| MR-500 | 500 | 2.2 | 76 | Customized |
| MR-1000 | 1000 | 4 | 63 | Customized |
| MR-2000 | 2000 | 7.5 | 59 | Customized |
| MR-3000 | 3000 | 11 | 53 | Customized |
| MR-4000 | 4000 | 15 | 53 | Customized |
| MR-5000 | 5000 | 18.5 | 53 | Customized |
| MR-8000 | 8000 | 22 | 43 | Customized |
| MR-10000 | 10000 | 30 | 43 | Customized |
| Customized | / | / | / | / |