6 Important Things I Learnt About Pharmaceutical Vibro Sifter
Vibro sifter is an essential accessory for the gradation of materials in many laboratory and industrial processes. It helps to separate materials based on their particle size.
Ideally, these are circular unitary gyratory screens that are also referred to as vibrating sifters, vibro sieves, control sieves or check screen.
They are available in different configurations, designs and capability. This may vary broadly depending on the manufacturer and the intended application.
A vibro sifter is not a new equipment in the pharmaceutical and food processing industries. The video below is a Abster™ vibro sifter.
In this article, you are going to learn about 6 essential facts about vibro sifters. It is a simple guide to understanding vibro sifters.
It covers these essential sections:
Now, let review all these essential sections:
1. Types/classification of Vibro Sifters
There are many crucial aspects you may consider to classify vibro sifter machines. These may include the design, application, production capacity, model, brand, etc.
For a fact, these aspects vary broadly, thus, discussing every aspect in this section may not be practical. You will learn more about some of them in the next sections.
At this point, let's review the most common classification criteria:
· Classification Based On Size
These machines come in a wide range of sizes and designs. Obviously, the production capacity will depend on the size of a machine.
But, how can you get this information faster?
You need to review the sieve specifications. The sieve diameter may vary from 12 to over 72 inches.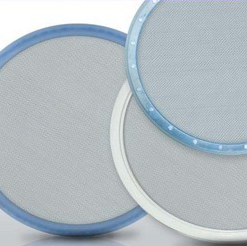 Different types of sieves on vibro sifter
Another critical aspect of classification is:
· Overall Design
As indicated earlier, the design will depend on the vibro sifter manufacturer. For instance, an equipment may have an L-shaped sieve frame design.
Different sizes of vibro sifter machines
Moreover, it may feature a completely separable design. Of course, all these ensure the equipment is unique, efficient and easy to use.
· Number of Sieves
Depending on the intended application, the equipment may be a single-layer, double layer or triple layer machine.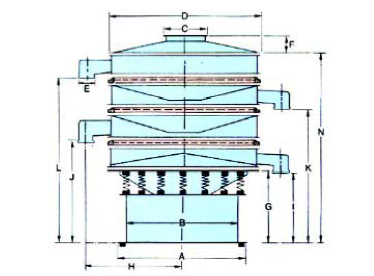 A cross-sectional section showing arrangement of sieves
All these will depend on the degree of product separation the equipment is designed for.
Specific Application of the Equipment
Broadly, you can use this equipment in either industry or laboratory applications. So, what brings this difference?
Vibro sifters designed for industrial applications are large in size. They are high production machines.
A good example is the Vibro Multi Deck Sifters.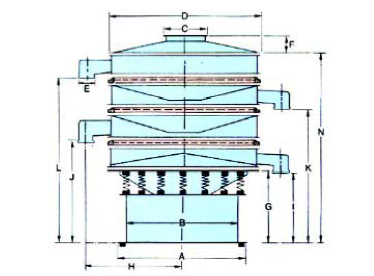 A high capacity machine
On the other hand, those designed for laboratory applications are relatively small. They are commonly used in R&D and preparation of small samples.
The Experiment Analyze Sifter for Particle is a good example.
A small scale or R&D vibro sifter equipment
With all these in mind, let's move to yet, another crucial aspect of the vibro sifter machines.
2. Basic Parts of a Vibro Sifter Machine
A vibro sifter is an assembly of many parts/sections. The image below shows a single-layer vibro sifter machine: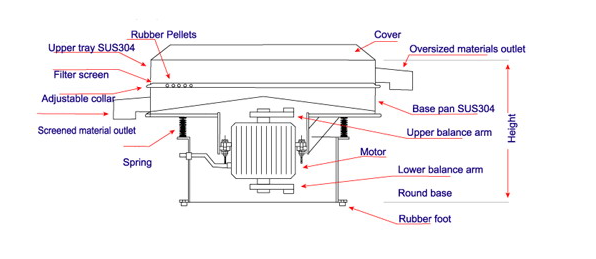 A section of vibro sifter machine
This is a simple design. At times, the manufacturer may opt for an equipment with many sieves as shown below: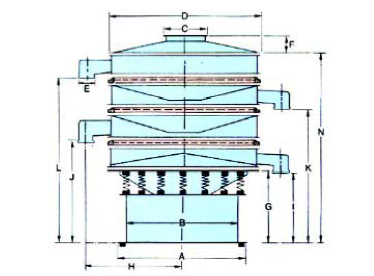 A triple-layer sieving equipment
In short, these are the main sections of a vibrating sifter. Every part plays a significant role in the product separation process.
So, how do these sections coordinate to get the desired product output? I will explain this in the next section:
3. The Working Principle of Vibro Sifter Machine
A vibro sifter is a simple equipment, however, its construction and working principle may be quite challenging for most people.
Before we review the working principle of vibro sifter machine, let's discuss some essential components of this equipment:
High Quality Springs
From the images above (Parts of a Vibro Sifter Machines), you can see the sieves/screens are suspended on a spring. The main purpose of these springs include:
Allow the entire upper section of the machine to vibrate freely
It helps minimize power consumption
Acts as damper; i.e. preventing any transmission of vibration to the floor
Apart from the springs, we have:
A Vibratory Electric Motor
It is this motor that causes the multi-plane vibratory motion as you can see in the video above. Remember, this motion increases the rate at which the material passes through the various sieves.
To achieve this, this equipment come with an out-of-balance weight assembly.
Screen Structures
This is where the sieves are fitted. It is these sieves that separate materials depending on their size/shape.
The screens are held in tension, making it easier for material to move in the direction of the vibration. This could be in horizontal or vertical direction.
Depending on the type of material you wish to process, it is possible to adjust the screen motion precisely to the performance requirements.
That is, a single machine can achieve both aggressive and gentle material separation.
The screen structure uses the FDA approved seals to prevent cross contamination of the products in different sieves.
Outer Structure/Casing
The structure is made from stainless steel. It confines the product to be processed to a desired size and finesses.
For easy mobility, the structure has nylon casters.
Hopper Lid
It confines the material, keeping both the machine and surrounding environment from dust.
How a Vibrating Sifter Works
First, I want you to review the image below:
Image illustrates the movement of the various particles of material being separated in a Vibrating Separator
Basically, the whole process in the image above can be summarized as:
Feed the material you intend to separate through the hopper (the small hole at the top of the vibrating separator).
Ensure the cover, screen structure and the base frame is tightly secured with the clamping rings.
Power the machine from the mains and switch it on
The vibrating motor will be energized causing a vibratory motion due to the out-of-balance weight assembly.
The screen/sieve will begin to vibrate. Material fed to the hopper will then travel across sieves depending on the particle size.
Material travels in a controlled pathway and exits the system through the discharge system.
Depending on the design of the vibrating sifter, you can use the machine for:
Classifying particles for the case of multi-deck
Scalping or sifting for the case of a single deck
As you can see, the working principle of a vibrating separator is simple and easy to understand. Of course, every machine comes with a simple to understand manual or guide.
Remember, when shopping for these equipment, you need to go for one that guarantees quality production process.
So, what are some of the vital features to consider?
4. Important Features of Vibrating Sifter Machines
There are many vibrating material separating machines available in the market today. So, how can you ensure you get the best equipment?
Of course, one may think of going for a reputable brand. This alone may not guarantee success in your material processing requirements.
Still, you must evaluate each machine to establish whether its features meet the application requirements or not.
Below are critical features of vibrating sifter machine to consider:
Compact and portable design
Guarantee low noise operation and high speed operation
Energy efficient equipment
Uses a flame proof motor material
Made from high grade stainless steel
Better dust handling capability
Many screen options such as double or triple
Easy to dismantle and clean
Adjustable vibratory motion
Sturdy and robust design
Easy to install and operate
Design should allow for easy and fast changing of sieves
Guarantee high performance
Durable to guarantee a long service lifespan thereby reducing maintenance costs
Even though the machines may vary in design, it must not compromise on quality, performance and reliability.
To ensure quality production of vibro sifter machines, there are a number of regulations every manufacturer must adhere to.
5. Quality Compliance for Vibrating Sifters
A vibro sifter is made of electrical and mechanical parts. That is, the motor converts electrical energy into mechanical energy (vibratory motion).
Therefore, the manufacturer should ensure that:
Machine conforms to the cGMP requirements; this includes the choice of material and hygiene. It is for this reason the machines are made from high quality stainless steel
Furthermore, all sealing and sieves are made using the FDA approved materials. It must have superior dust handling capability.
It must be CE compliant; this includes the selection of electrical motors and material.
6. Applications of Vibrating Sifter Machines
The main applications of vibrating sifter machines may vary depending on designs and structures of the equipment. Some of the main industries that depend use these equipment include:
Pharmaceutical
Research in laboratories
Cosmetic
Chemical processing
Food processing
Agricultural, etc.
Conclusion
Clearly, a vibro sifter is an efficient machine that sorts, separates or sieves materials to the required particle size for either direct use or further processing. As you have seen, the machines use a vibratory motion to shake the sieves thereby producing the desired product.
The machines come in a wide range of designs and shapes. However, you need to buy a high quality, efficient and cGMP compliant equipment.