Industrial Heavy Duty Agitator
Industrial Heavy Duty Agitator are used for various type of mixing in chemical, Pharmaceutical, Bio ceutical, fertilizer, food, and paint.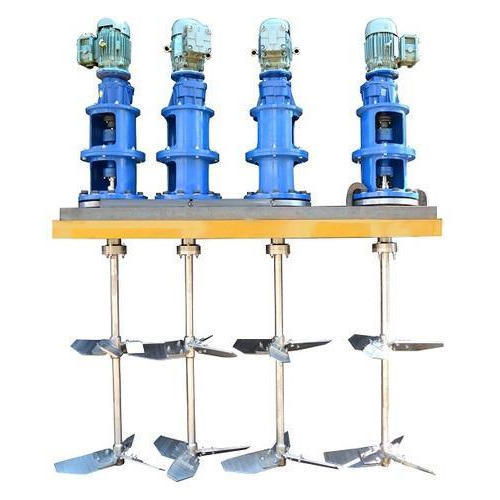 Introduction
Industrial Agitator mixers are designed to provide reliable service in the largest, most demanding applications, from pharmaceutical fermentation and large-scale chemical processing to minerals processing and heavy sludge waste treatment.
Abster mixers are mainly used in large and medium mixing tank,occasions where high-strength mixing is required such as mixing for high internal material density,high solid content,high viscosity,and gas dispersal and etc.
Features

• Reinforced bearings protect the gear train from severe shaft flexible.
• Bearings are sized far beyond AGMA requirements for easy maintenance and long service life

.

• Heavy-duty motor mount is standard.
• Power ranges from 25 to 1000KW and speed varies from 10 to 245 RPM
• Choice of replaceable cartridge seals.
• Largest ouput shaft per allowable torque for greater bending design & longer shafts.
• Case carburized & ground helical-bevel combination gearing for unmatched efficiency, quiet running & long life.
• Rugged housing designed for easy assembly and maintenance.
• Tapered roller bearings handle overhung shaft loads.
• Triple reduction gearing has robust AGMA service factor.
• Available on larger units with power bigger than 1000 KW.
• Optional seals:Lip seal,packing seal and mechanical seal.
Industrial Heavy Duty Agitator Applications
• Bulk chemicals
• Polymers
• Specialty chemicals
• Formulated consumer products
• Bio fuels and bio refineries
• Flue gas desulfurization in coal power stations
• Hydro metallurgy
• Storage tanks
Heavy Duty Top Entry Agitators
Type: IHD
Examples of heavy duty applications are hydrogenation, bio digesters, chemical reactors, resins.
Characteristics for heavy duty agitators and mixers are:
Mixing applications where higher forces are required

Very large tank volumes where a bottom bearing is not applicable

Highly viscous fluids exceeding even 100.000 cP
High pressure tanks (exceeding even 100 bar)
Temperatures exceeding 250 °C
Shaft supported by double bearing section completely absorbing radial and axial loads
Flexible coupling between drive and mixer shaft
Our Other Process Equipment: