Ribbon blender manufacturer
Ribbon Blender is suitable for homogeneous blending and mixing of dry powders of different bulk densities used in the Food, Mineral, Pharmaceutical, Paint & Chemical Industries.
It is a simple versatile mixer which can also mix semi wet material. Ribbons of various designs are available to handle different materials. The Ribbon Blender mixer consists of a cylindrical shell inside which rotates a double helix shaft fitted with spiral inner and outer ribbons.
During rotation of the shaft, the ribbons lift, convey and intermix the material to get a homogeneous mass in short intervals. Discharge is from the bottom by a quick opening valve.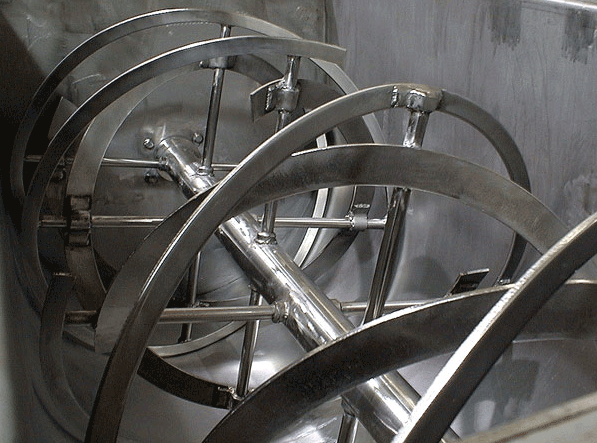 Horizontal Ribbon Blender
This horizontal Ribbon Blender Machine has inner and outer ribbons in the U-shaped container. Individual section of the two ribbons can be cured with the kind of material, quantity and the proportion of the body. The ribbon blender mixer is suitable for the mixing of solid powder material. We have the perfect after-sales service and technical support.
Horizontal ribbon mixer is widely used in chemical, pharmaceutical, fertilizers, dyes, food powder, feed, etc. It has a horizontal tube body, dual screw between inner and outer the special structure, running stably, high quality, low noise, long work life, easy installation, multiple functions. We also manufacture Large Scale Ribbon Blenders, Detergent Mixing Machine and Plastic Powder Blender, etc.
Each part primarily consists of a 'U' shaped trough horizontally mounted, with a longitudinal shaft with twin bladed construction. With guard net and lip made of stainless steel. For different mixing requirements, use different screw structure, rapidly & thoroughly mixing.
We manufacture superior quality Horizontal Blender Machine that is used for different blending, mixing and drying processes. This machine provides perfect homogeneous blends for dry, fine as well as coarse powders, grains and pastes.
Stainless Steel Ribbon Blender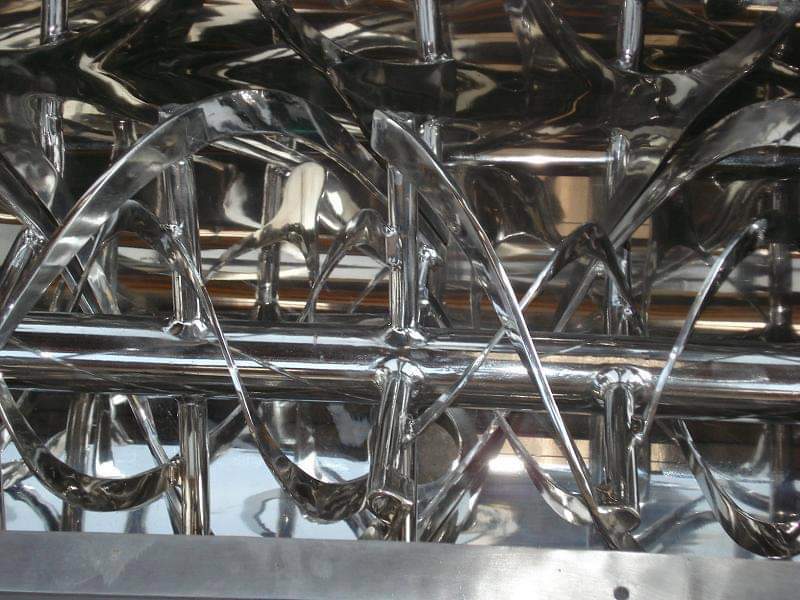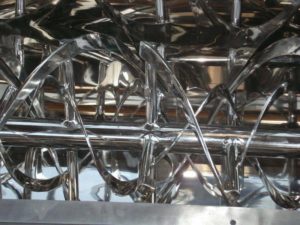 The Horizontal Stainless Steel Ribbon Blender consist of U-Shape tank, spiral ribbon and drive parts. It's widely-used in area such as food processing, chemical industry. It is suitable to mix small and dry powder or granular, including: milk powder, coffee powder, wheat flour, corn flour, protein powder, egg powder, chili powder, seasoning powder, spar powder, chicken powder, gourmet powder, cosmetic powder, washing powder, detergent powder and other food and chemical powder. The mix effect is high. The cover of the tank can be opened in order to clean and replace accessories easily.
Technical Specification
Related searches
ribbon blender ppt, ribbon blender design calculations pdf, ribbon blender design drawing, ribbon blender Wikipedia, ribbon blender blade design,
ribbon blender drawing, ribbon blender design software, ribbon blender slide share, stainless steel ribbon blender, stainless steel ribbon, steel ribbon blender, ribbon blender design,