Ointment Manufacturing Plant


ointment manufacturing plant layout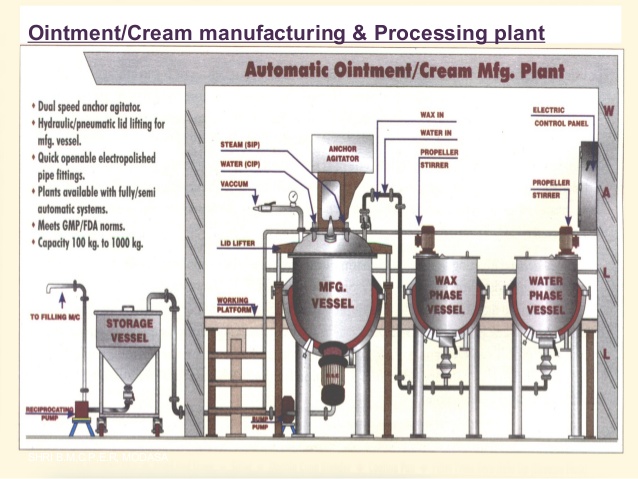 Ointment Manufacturing Plant
Ointment Manufacturing Plants are ideal tools for the pharmaceutical & cosmetic industries for the production of Ointment, Cream, Lotions, Tooth Paste & other emulsions & homogenization.
It is specially designed to take care of two critical factors which directly affect the quality of Ointment / Creams.
Ointment manufacturing plant consist the following equipment and accessories:
Manufacturing Vessel or Jacketed planetary mixer
Wax phase vessel
Water phase vessel
Storage vessel
Vacuum pump
Control pump
Product piping
Working platform
Material transfer pump to transfer material from manufacturing vessel or planetary mixer to storage vessel & storage vessel to Ointment (Tube) filling machine.
Salient Features
Compact & versatile as per GMP norms.
All contact parts made of SS316 and Teflon material.
Hydraulic lid lifting and tilting arrangement of the main vessel to facilitate cleaning at the time of product change over.
Specially designed stirrer with flexible Teflon scraper.
Mixing principles are matching with international standards.
Variable speed provided for stirrer and homogenizer for different speeds.
All transfer done through vacuum to avoid any hand touch and contamination.
Homogenizer fitted in the main shaft to ensure high shear emulsification and homogenization of the product.
Specially designed inline filter to ensure proper filtration.
Minimum change over time.
Pneumatic/hydraulic lifting to lid ointment manufacturing vessel.
Mixing vessel consist of two speed agitators and one variable fast speed agitator.
Vessel Design
Extensive research & development has produced the best combination of vessel agitation system, offering high productivity, quality and yield.
• Low relative batch size
• Conical design and proven geometric ratios ensure optimum product flow
• All surfaces angled to ensure ease of cleaning
Integrated Vaccum System
• Fully controllable to permit variation of vacuum levels according to the process phase
• Operates on demand for environmentally friendly and low cost operation
• Vaccum line can be fully flushed for sanitation purposes
User Friendly interface
The easy-to-use Mixer control package can incorporate process parameter storage for simple and fast set-up
• PLC-based, with Touch Screen MMI and SCADA Packages
• Choice of packages to suit application requirements
• Flexible configuration
Processing Options
A comprehensive range of additional features can be provided to increase the flexibility of the Mixer Each option is supplied fully integrated in to the control system of the unit with appropriate safety features.
Heating / cooling and insulated jackets complete with temperature control and safety equipment
Semi Contra Rotary agitator with open slot scraper design
Short loop product Re-Circulation for smaller batch sizes
Hydraulic lifting of manufacturing vessel top dish to facilitate product recovery
Separate pre – mix vessels for wax and water phase
Process piping with transfer panel design for automated plants
Leaning In place cycles with validation protocols
Application
Pharmaceuticals Applications
LOTIONS
CREAMS
GELS
OINTMENTS
Cosmetic Applications
COLD CREAMS
EMULSIONS
LOTIONS
GELS
HAIR GELS
MASCARA MAKE-UP
SHAMPOO
TOOTHPASTE
Capacity Processing Batch sizes from 20 kgs to 10000 kgs
ointment plant manufacturer in mumbai
ointment plant machine
ointment manufacturing plant in gujarat
ointment equipment
ointment cream production unit start start