Horizontal Plate Type Filter Press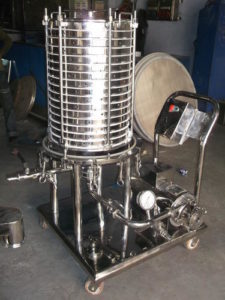 Horizontal Plate Type Filter Press also known as Sparkler Filter Press, redefine filtration through compactness, ease of operation and robust engineering process. This type of filter presses suited for filtration process of syrup, liquid, chemicals, oils and beverages etc. The Horizontal Type Filter presses are totally enclosed and leak proof assembly. the product to be filtered is fed in the shell with the help of a suitable pump under positive pressure, wherein liquid flows through the filter plates placed inside in downwards direction and finds its way through opening on sides of the filter press. The product enters the plates from peripheral holes. As the liquid pressure increases, the Filter media holds the foreign particles and allows only clear filtrate to pass through the central channel formed by interlocking pressure cups to the outlet. Filtration is continued until the cake holding capacity of the unit is reached or until the filtrate rate becomes too slow owing to cake resistance. The impurities are retained on filter media & clear filtrate comes out from the bottom outlet. The Scavenging arrangement provided on the filter ensures removal of the entire filtered liquid.
There are various combinations available with different diameter & number of plates to get the desired filtration area and cake holding capacity.
Special Features:
---
Comes with interlocking spacers
Unfiltered liquid centrally fed under pressure through bottom inlet that allows liquid to evenly spread on each plate that comes fitted with filter media
Meets GMP & FDA norms Provides full batch recovery where no separate scavenging system is required.
Provides full batch recovery where no separate scavenging system is required
Provides for optimum sealing support that allows filtration of volatile, toxic as well as inflammable products
Can be used with any type of filtering media including as single or in combination to achieve required micron efficiency
Applications:
---
Chemical industry
Pharmaceutical industry
Food industry
Technical Specification
---
Model
Diameter of Plate
No. of Plates
Filtering Area m2
Cake Holding Capacity (Litres)
Capacity
(Litres/hour)
SFP86
8"
6
0.198
4.50
400
SFP88
8"
8
0.254
5.78
500
SFP148
14"
8
0.756
27.00
1500
SFP1410
14"
10
0.924
35.00
1800
SFP188
18"D
8
1.270
51.00
2500
SFP1815
18"S
15
2.270
44.00
4500
SFP1812
18"D
12
1.840
78.00
3700
SFP1823
18"S
23
3.400
65.00
6800
SFP2412
24"D
12
3.430
148.00
6700
SFP2423
24"S
23
6.336
120.00
12600
SFP337
33"D
7
4.000
175.00
8000
SFP3314
33"S
14
7.500
210.00
15000